In the history of this blog, under the Orban government, I have never been able to take seriously the official relationship between Hungary and Russia . This is despite both countries having significant areas for economic relationships, particularly in energy and other areas. The reason for my jilted attitude stems from the passing off of the relationship of one of equals that engage in mutually beneficial energy projects. When Hungary discusses energy with Russia it only means greater dependence on a country that plays politics with energy resources. So when it comes to official visits between the two countries, instead of just discussing Hungarian exports of salami and apples to Russia, we engage in this charade of energy equals.
Today Russia's Foreign Minister, Sergey Lavrov is in Budapest to meet with his counterpart and with Prime Minister Viktor Orban. The expansion of Paks Nuclear Power Plant is on the agenda and how Budapest is spinning its 'non-state' aid and 'transparency' argument with the European Commission. There already is a very good study on the non-viability of Paks II, so my comments will focus more on the increasing disparity between government projections of the price of nuclear power and the decreasing cost of alternative energy technologies.
In the world of renewable technology, particularly in the area of solar and wind power, the set rate of the feed-in tariff is now out of fashion. Instead an auction based system is now in place. This provides the chance for project developers to line up their financing and bid on how much their project will cost in comparison to other projects along the same parameters. This gives us a good idea of what the cost is for particular projects and their associated technologies. And the latest projects (albeit in sunny locations) drives the price of Paks II into the ground. Particularly when the life span of Paks 2, from 2026 to 2085 is taken into consideration.
The cost of solar power fell 50% in the past 16 months. It is now at USD 3 cents per kWh in sunny Dubai for 800 MW of solar power, and with favorable financing from Abu Dhabi. In comparison, Paks II will have the capacity of 2400 MW at a cost of USD 9 – 12 cents per kilowatt hour (kWh) for the first 21 year period – when the loan to Russia will need to be paid, and with a cost of USD 3 – 4 cents per kWh afterwards (at today's HUF/USD exchange rate). And this is with a 'favorable' Russian loan.
In the opinion of Attila Aszódi et al., power prices of HUF 28.74-35.56/kWh, depending on the various scenarios, would have to be attained in the 21-year period of the repayment of the Russian loan taken out in relation to the investment, for the power plant to be able to cope without any further financial support. The authors firmly believe, on the other hand, that the project might be a good investment despite the above as, after repayment of the loan, the power plant would generate power at a price of HUF 8.05-11.09/kWh, which will result in a good average price over its entire lifetime (Source: Felsmann, Balazs, 2015).
If we look at the US, then we can see that the price of 5 cents per kWh is achievable now without government subsidies. No doubt the price for solar will continue to drop, so much so, that in ~2026 when Paks II (if it is ever built) will open in a electricity market, which takes no stretch of the imagination, will have the cost of solar even lower than the price of nuclear (Southern Hungary is actually pretty sunny). According to the author of the chart below, southern an central Europe will have solar prices at 6.5 cents/kWh by 2020/2021. Even Steven Chu, the former US energy secretary and supporter of nuclear power stated, "Clean energy is actually getting much cheaper than even I, as a perennial technical optimist, thought it was going to be."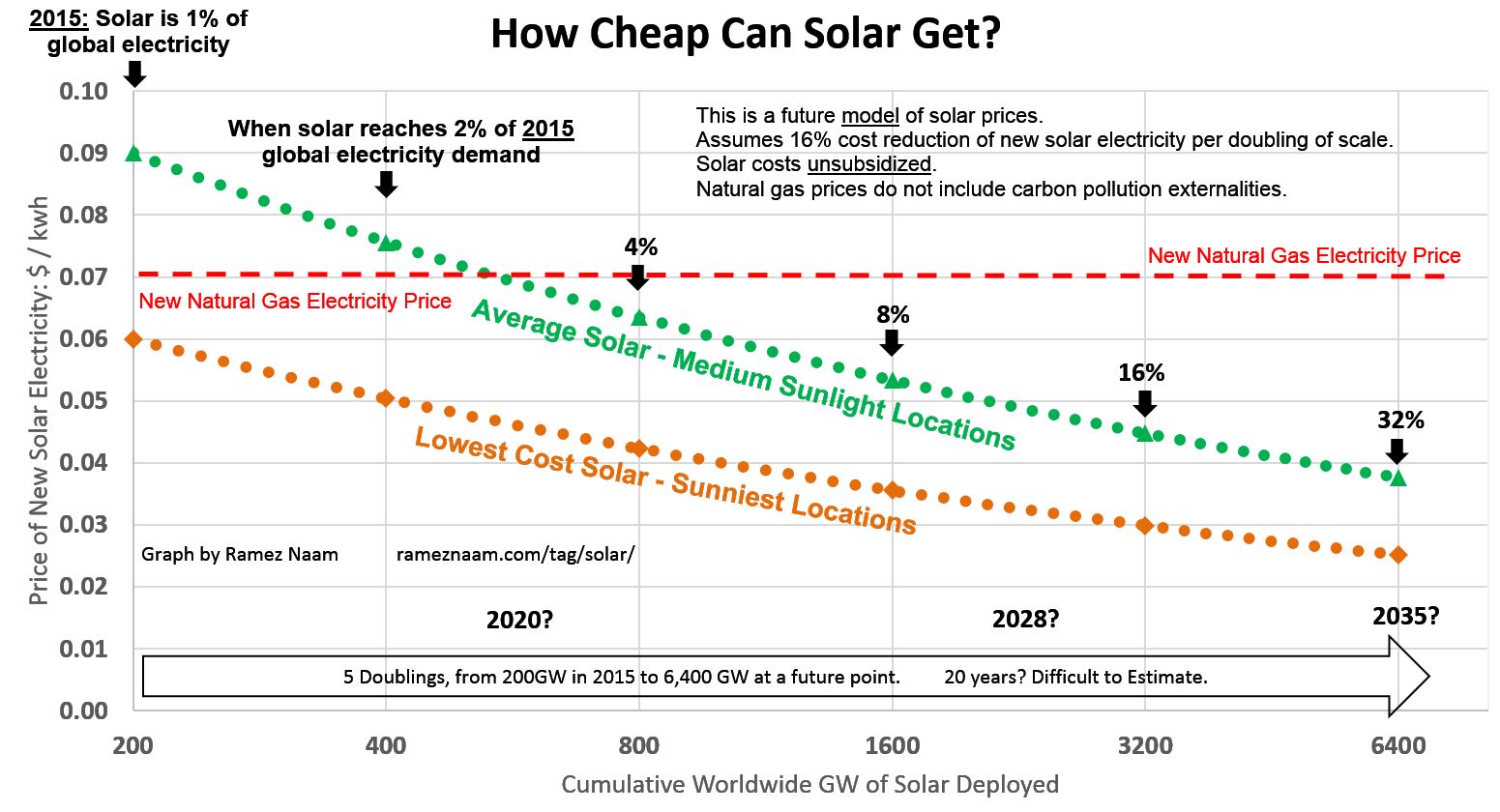 Some might say I'm comparing apples and oranges, that is baseload power to 'unreliable' variable solar power. But when we take into account the developments in energy storage technology and other renewable energy sources, combined with the longer term operation of Paks I (with near 2000 MW), then it can be confidently stated that by 2026 – in just 10 years, storage technology, that is already being deployed around the world, will be even more competitive.
In addition, solar should be seen as a 'bridging' fuel in Hungary's nuclear transition. That is, as Paks I units are decommissioned, solar and other renewables can begin to replace them from (earliest) 2036 and onwards. That is right, the current plant and all its units operates until 2036. It is projected between 2024/2026 and 2036 the output of Paks will be over 4000 MW – Hungary will need to dump this electricity outside of its own borders.  Solar can easily be a cost effective source of bridging while either newer nuclear power technology is developed or alternative sources are integrated. In any case, the cost will need to be less than the current Russian offering.
Hungary's energy relations with Russia is not one of equals. The country is being saddled with an outdated and expensive technology that even today (the day when Russia's foreign minister is in the country), that is more expensive than alternative technologies. This summer Budapest takes delivery of the refurbished Soviet era metro carriages from Russia (as part of the Paks II deal, us citizens of Budapest had to accept these outdated models), let's hope that Paks II is not delivered on the citizens of Hungary, the bill is already too high, in 2026 it will be astronomical.
Sources:
"MVM Hungarowind Invests HUF 4.9 Bln in Solar Power Plant | The Budapest Business Journal on the Web | Bbj.hu." Accessed May 25, 2016. http://bbj.hu/business/mvm-hungarowind-invests-huf-49-bln-in-solar-power-plant_112171.
Naam, Ramez. "How Cheap Can Solar Get? Very Cheap Indeed." Ramez Naam, August 10, 2015. http://rameznaam.com/2015/08/10/how-cheap-can-solar-get-very-cheap-indeed/.
"Russian Foreign Minister: Hungary 'important, Reliable Partner' | The Budapest Business Journal on the Web | Bbj.hu." Accessed May 25, 2016. http://bbj.hu/politics/russian-foreign-minister-hungary-important-reliable-partner_116608.
Naam, Ramez. "How Cheap Can Solar Get? Very Cheap Indeed." Ramez Naam, August 10, 2015. http://rameznaam.com/2015/08/10/how-cheap-can-solar-get-very-cheap-indeed/.
"Steven Chu: Mexico's Energy Auction Reveals True Price Of U.S. Renewables – Forbes." Accessed May 25, 2016. http://www.forbes.com/sites/jeffmcmahon/2016/05/08/steven-chu-mexicos-energy-auction-reveals-true-price-of-u-s-renewables/#1a94bf3575d2.
"The Price of Solar Power Just Fell 50% in 16 Months – Dubai at $.0299/kWh! | Electrek." Accessed May 25, 2016. http://electrek.co/2016/05/02/price-solar-power-fell-50-16-months-dubai-0299kwh/.
Felsmann, Balazs. "Can the Paks-2 Nuclear Power Plant Operate without State Aid? A Business Economics Analysis." Energiaklub, June 23, 2015. http://www.energiaklub.hu/sites/default/files/study_can_paks-2_operate_without_state_aid_energiaklub_2015.pdf.
Aszodi, Attila. "A Paks2 projekt energiapolitikai értékelése és a szakember utánpótlás kérdései." Budapest, March 20, 2014. http://nuklearis.hu/sites/default/files/docs/Aszodi_MNT_20140320.pdf.